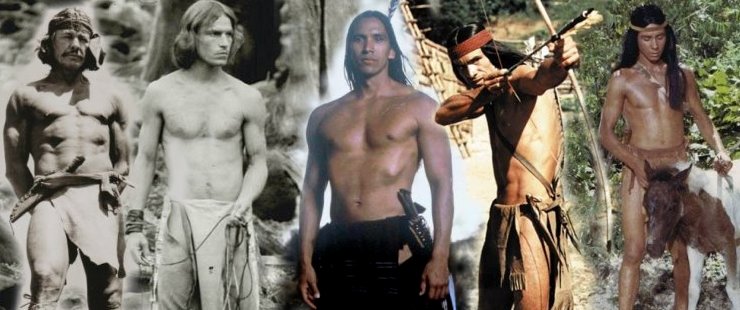 Film titles listed here are included only for their depiction of the wearing of loincloths, breechcloths and breechclouts.
Included are films with a non-west setting but may be considered to be of the western genre such as "The Last of the Mohicans".
Often films are cast and roles performed by actors who are not of Native American descent.

BILLY THE KID VS. DRACULA (1966)
BLACK FOX: THE PRICE OF PEACE (1995)
DJANGO KILL ... If You Live Shoot! (1967)
ESCAPE TO GRIZZLY MOUNTAIN (1999)
I WILL FIGHT NO MORE FOREVER (1975)
THE LAST OF THE MOHICANS (1920)
THE LAST OF THE MOHICANS (1936)
THE LAST OF THE MOHICANS (1992)
THE LEGEND OF WALKS FAR WOMAN (1982)

THE RETURN OF A MAN CALLED HORSE (1976)
SON OF THE MORNING STAR (1991)
STOLEN WOMEN, CAPTURED HEARTS (1997)
SQUANTO: A WARRIOR'S TALE (1994)

This list is a work in progress ... if you would like to suggest a title not on this list please email it to: